Flexible standard design or individual style.
EVER SCREEN
Individual design privacy screen
Batten fence
Individual, air & light permeable
EVER ART FENCE
Perfect for the front garden
Louver fence
Air circulation and optimal privacy screen
PREMIUM PRIVACY SCREENS WITH CUSTOM STYLE
Do you want an individual style not only in your own home, but also in your garden? Our premium privacy screen products will grant you that wish. Regardless of your taste or interior design style, our extensive range of privacy screens will meet your needs and requirements. Different designs and materials, e.g. aluminium privacy screens, offer many design options. Convince yourself of the quality of our products.
The products of the EVER SCREEN series score with optimal privacy protection and airiness at the same time. The modern privacy screen embodies the typical Japanese style in the form of its lightness and openness. The simultaneously robust construction offers excellent stability and is suitable as a modern privacy screen for all individualists and garden lovers. Modern, yet timeless – that is EVER SCREEN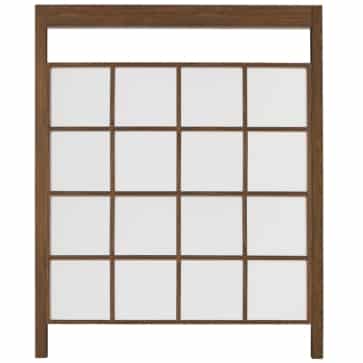 Experience the high quality of the aluminium design privacy screen. The precisely cut composite panels convince with loving details and create a pleasant atmosphere in your garden. The designer privacy screen is durable, impact-resistant and robust against any weather conditions.
A piece of Japan in your own garden is finally become a reality. Japanese privacy screens are particularly suitable for small gardens. Thanks to its light and airy appearance, it does not look too bulky and does not visually reduce the garden area. The modern privacy screen lends the surroundings a Far Eastern aesthetic and elegance.
Individual, air & light permeable
Our fences not only have an unforgettable and individual look, but also convince with their functional characteristics. The aluminium fence battens are extremely robust and durable. The small gaps between the fence battens allow for good air and light permeability. The aluminium wood-look privacy screens create a cosy and homely ambience and are also very easy to maintain.
The single-sided picket fence impresses with its plain and simple style. The individual fence slats are attached to one side of the crossbars.
Beim zweiseitigen Lattenzaun werden die Latten auf beiden Seiten der Querbalken befestigt. Diese Zaunvariante punktet mit Stabilität. Der grafische Effekt der aufeinander folgenden Stäbe wirkt beruhigend und fasziniert mit seiner Vollkommenheit.
A curved picket fence lends harmony to the surroundings and has a relaxing effect. This form can also be implemented very decoratively in a smaller area. Inside the garden, curved picket fencing can be used to delineate certain areas and give them a Far Eastern charm.
Small or large spacings? You decide. Depending on the function of the fence, you determine the distance between the individual fence slats. If the fence is only to serve as a boundary for the property, larger distances are recommended. If you would like to have an effective privacy screen, the fence slats should be installed with a small distance between each other.
The height of the picket fence can be chosen individually (1.2 to 2.4 m). To achieve good visual protection, the height of the aluminium picket fence should be between 1.6 and 1.8 m. For a visual boundary, it is sufficient if the aluminium picket fence is 1.2 m high.
PERFECT FOR THE FRONT GARDEN
In order not to cover the beautiful façade of the house unnecessarily, a slat fence offers an excellent option for privacy protection. Especially in the front garden, the attractive fence looks friendly and inviting. The aluminium slat privacy screen is robust, yet light and modern in appearance. The horizontal or vertical alignment conveys a stylish look and matches any building. The slat privacy screen terrace is sufficiently protected from prying eyes and invites you to cosy summer evenings with friends and family.
Aluminium slats not only offer good protection, they also give your garden a unique character and appeal with their elegant, straight-lined look. A variety of designs and easy installation make the slat system attractive. It is also maintenance-free and weather-resistant. The acoustic properties of the slat privacy screen effectively shield street noise and create better acoustics on the terrace and in the garden. Look forward to your oasis of peace and relaxation with EVER ART FENCE.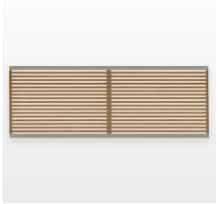 Flexible system with 4 standard sizes
We offer the slat privacy screen in 4 standard sizes (0.54 m, 0.72 m, 0.92 and 1.2 m). The flexible system can be extended in height as well as in width and thus adapts to your needs at any time.
Stackable up to 3 m height
The individual elements can be stacked up to 3 metres. This allows you to quickly and easily realise individual requirements and design the height of the fence according to your wishes. Excellent quality of the surfaces as well as lifelike replicas create an aesthetic, modern design.
AIR CIRCULATION AND OPTIMAL PRIVACY
The well thought-out privacy screen solutions, which are formed by our 40 years of experience, offer not only visual but also many functional advantages. They not only provide optimal privacy from passers-by and passing cars, but are also air-permeable. Despite the good air permeability, they offer sufficient wind protection. In addition, good light permeability should not be underestimated in slatted privacy screens, as it plays an important role especially in small gardens.
Louver fence with 6 settings
The special features of our slatted privacy screen with 6 settings will inspire you. You decide whether you want to protect yourself from the sun, wind or dust or have more light and ventilation. You can individually change the position of louvers (from 10° = closed to 90° = open). The size of the opening allows you to change the functions of the privacy screen depending on the weather and optimally adapt it to your needs. Despite the flexible settings, the louver privacy screen is weather-resistant, stable and durable.
The modern privacy screen made of high-quality laminated aluminium is not only absolutely opaque, it is also robust, maintenance-free and extremely light. With a weight of around 2.5 kg per square metre, the aluminium privacy panels are quick and easy to install. The versatile surface structures imitate natural materials such as wood, metal or stone and delight with their photo-realistic effect.
EVER ART BOARD
®

fence with modular system
Modern privacy screens can be installed quickly and easily in a modular fashion. The individual elements are connected to each other by strips and rails. Due to the modular design, both the width and the height can be easily adjusted. The installation of individual panels allows the creation of an customised privacy screen. The enormous design variety offers an individual design and creates a personal atmosphere. You can combine wood structure with stone look and set metallic accents. Let your creativity run free! Our experts will be happy to support you.
EVER ART BOARD
®

fence with Substructure
When installing with a substructure, the individual panels can be mounted directly on a free-standing frame. The independent frame forms a stable framework and is a long-lasting basis for the privacy panels. This creates modern privacy screens in the garden that will delight you for years with their stability, resistance and design. For a good look and better support, different strips can also be used. From the composite strip to the end strip to the corner composite strip – our range offers you everything you need for installation.
The privacy fences are versatile, flexible and individually designable. The elements convince with their modern elegance and lifelike appearance and structure. The three-dimensional surface texture creates beautiful subtle shadows that perfect the overall appearance of the privacy screen. Thanks to the numerous patterns and colour nuances, individual solutions can be implemented very easily. The aluminium composite panels are coated with a weather-resistant film that offers an enormous variety of designs. The foil ensures high resistance to sunlight and rainwater. Let yourself be inspired by Japanese garden culture and be convinced by the quality of our products. We stand for this with our name and give you a 10-year guarantee.