LEDIUS extra-low voltage lighting system for garden & exterior.
Exterior lighting with style and function
Atmospheric lighting accents, completely individual
System overview and extra-low voltage technology
Well thought-out system of power lines
EVER ART LIGHT
Harmonious blending with the surroundings
Versatile options in a flexible system
Attractive lighting concepts for all needs
Exterior lighting with style and functionality
Functionality, Elegance, Safety, Protection, Added Value
The task of lighting is not only to illuminate the darkness and keep unwanted guests away. Well thought-out lighting sets impressive accents, creates a harmonious ambience and directs the viewer's perception. Our designer outdoor lights fulfil all these tasks with flying colours. They help you with the design and particularly enhance your garden. The atmospheric garden lighting creates an individual atmosphere and ensures a cosy overall picture at any time of year.
LEDIUS SETS THE SCENE FOR BUILDINGS
Driveway, front garden, facade, entrance
LEDIUS focuses on modern outdoor lighting concepts. Regardless of whether you want outdoor terrace lighting, lighting from the house or indirect lighting outside, with high-quality LED luminaires you can implement your project quickly and safely. With LEDIUS, you skilfully set the scene for your house. With beautiful lighting scenarios, you can emphasise the architectural features of the building and achieve completely new effects at night.
LEDIUS BRINGS REST AND RELAXATION
Colour temperature and warm light create a pleasant atmosphere – garden and paths
Outdoor LED lighting plays a crucial role in terms of visual impact and perception. Create an oasis of calm with the right bush and tree lighting in your garden. By illuminating plants, you set atmospheric accents and create a special ambience that invites you to spend time. You can play not only with the colour temperature but also with the width of the light beam. Small and wide trees are particularly effective when a wide beam of light is directed at them. Slender plants, on the other hand, should be illuminated with a narrow beam. Grass areas, bushes and low plants look more expressive if they are illuminated from below with ground spots.
LEDIUS - A PHOTO STUDIO IN THE GARDEN
Special concepts for the illumination of terraces and rooms in the garden
We offer special concepts for atmospheric illumination of garden rooms and terraces. A soft light that is not disturbing to the eyes in the dark and creates a romantic atmosphere is ideally suited for room and terrace illumination. Indirect lighting in the garden can be achieved, for example, with the help of batten luminaires or spots directed at the wall. Here, the light is reflected by the wall and diffused back into the garden.
SYSTEM OVERVIEW AND EXTRA-LOW VOLTAGE TECHNOLOGY
For walls, ceilings, outdoors and indoors …
To bring a few sources of light into their own garden, many people turn to solar lamps. But if you want more light or professional lighting for the garden, you need electricity. Power cabling can run along walls (e.g. screen wall), ceilings (e.g. patio cover), outdoors or even in living spaces. Which type of power cabling is right for you depends on your lighting project. Let our specialists advise you.

Cabling on the surface, in the ground or in concrete
If you need electricity in the garden, you have three options for the routing of the power line. Firstly, power access can be provided by ground cabling that runs directly to the surface of the ground. A second option for power access is underground cabling. Here, the power cable is laid about 20 to 30 cm below the ground surface. If a cable has to be placed in concrete or mortar, a special wire conduit is needed for the installation.
Scale for small and large projects
For light sources that do not exceed a maximum distance of 16 m from the transformer, an electrical voltage of 12 V is sufficient. This is optimal for small and compact lighting projects. If the light source is further away (max. 90 m from the transformer), a power line with 25 V is required. Both variants apply to light sources with a power of max. 25 W.
Power for every need with intelligent lighting management
The low voltage lighting system Garden is smart and can be controlled intelligently. You decide what power the extra-low voltage lighting should provide in a particular situation. Simply adjust the lighting to your needs and lighting conditions.
Lights that merge with the surroundings.
The EVER ART LIGHT series gives your garden that certain something and offers countless design possibilities for your outdoor area. The texture of the light bulbs merges with the landscape and thus achieves special lighting effects.
SIMPLE CONSTRUCTION AND A LARGE CHOICE OF DESIGNS
Individual design options in harmony with architecture, garden and outdoor area
EVER ART LIGHTS are truly multi-talented. As garden wall lighting or decorative lighting, they convince with a variety of applications and design possibilities. The well thought-out concept blends in with nature, colours or design. If you want to coordinate the lighting with the design of the garden and outdoor area, you can use the same texture from EVER ART WOOD. This way, the lighting bathes garden walls in a beautiful light and enables beautiful light-shadow games due to the texture. The overall picture achieves a harmonious interplay and appears professional and of high quality.
Optics, design and texture
High-quality, robust material and a variety of designs from the EVER ART WOOD series open up many design options for you. The lifelike wood structure made of aluminium looks deceptively real.  
The outdoor lamps are available in many designs, shapes and heights. They are also suitable for all surfaces and can be used flexibly outdoors.
Choose between three options of light direction – all around, downwards or as a decreasing light cone.
The luminaires convince with the simple construction consisting of a waterproof lighting head and an aluminium column.
Aluminium can be cut to any height and gives you the option of shortening the lamps to the desired height. Extremely flexible, durable and versatile in application – these are the products of EVER ART LIGHT.
A variety of designs from the EVER ART WOOD series and the positive properties of the material make the luminaires perfect outdoor lights.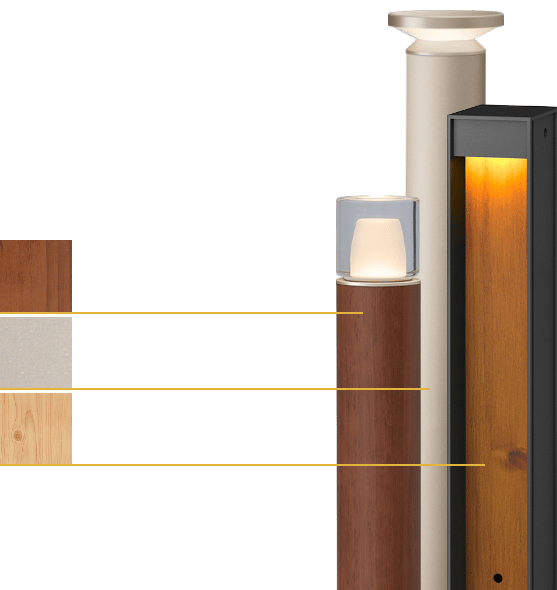 Versatile options in a flexible system
Assortment for versatile applications
Exterior lighting is playing an increasingly important role. Since the garden is a place of rest and relaxation. We offer you a wide range of lighting for the garden. From bollard lights to ceiling spots and Japanese lamps – let our range of exterior lighting inspire you. Create a lighting for your trees outside or for your Buddha statue together with us.
The stylish bollard lighting optimally illuminates your garden path and makes it appear larger and more balanced thanks to a strategic arrangement.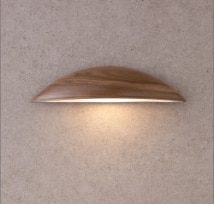 In many colours, sizes and shapes – we offer you the optimal wall lighting for your exterior. Emphasise the structure of your walls with a beautiful light. With many models, the light intensity can be adjusted.
Whether spots are recessed into the concrete or stand down, many lighting effects can be achieved with floor lighting. The floor lamps are ideal as indirect wall lighting as well as plant lighting.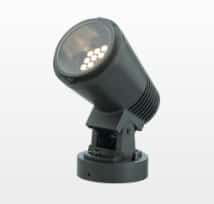 With the help of spot lighting, you can set selective accents and emphasise certain areas of your garden. Spots are particularly ideal for illuminating decorative items.
To avoid accidents, the garden path as well as water areas should be particularly well illuminated. Bollard luminaires are particularly suitable for illuminating walkways.
Spend beautiful evenings on your terrace. The ceiling lighting perfectly illuminates your book or lets your summer dinner shine in beautiful light.
Add Far Eastern accents to your garden paradise with Japanese lighting. Designs and materials that are in harmony with nature give the surroundings a soft light and an unforgettable atmosphere.
The LEDIUS database offers you helpful information on all types of lighting. It offers you details on the products at any time and helps you to compare them and make the right decision when choosing a light source.
LEDIUS Extra-LOW VOLTAGE PLANNER
3 simple steps to a lighting plan
When planning your lighting in the garden, you don't need to worry about electrical voltage drop. LEDIUS extra-low voltage planner helps you to plan your lighting in the garden. The voltage drop and the number of watts are reliably calculated. At the end, you automatically receive a list with the right accessories. So you can plan your lighting in the garden yourself, without stress and headaches.